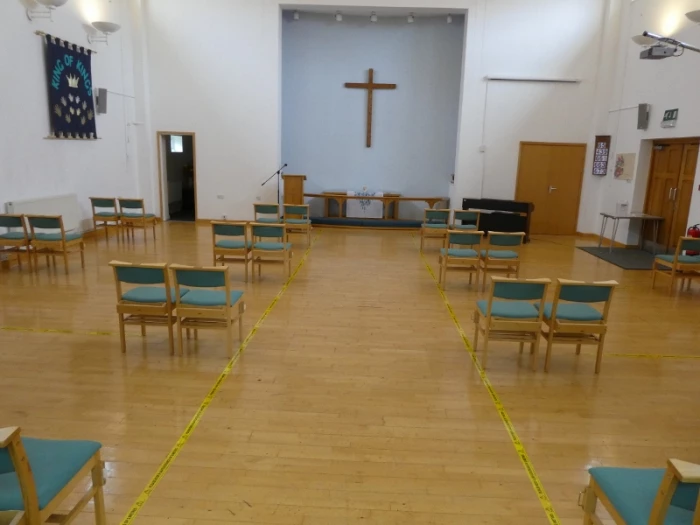 Waingroves Methodist Church

After much prayer, planning and sheer hard work, Waingroves Methodist Church reopened on Sunday 9 August and, at the time of writing, we have now met for Worship on three consecutive Sunday mornings.

Our first service was an intense and quite emotional mix of things that felt very familiar and things that felt very different. On our arrival each of us washed our hands, recorded our names for 'Track and Trace' and put on our face coverings. In order for us to be 'Covid Secure', the chairs had been spaced at 2 metre intervals in the chapel and a 'one-way system' through the building had been sign posted. But, as we entered the chapel, which had been closed for so many weeks, we heard the familiar voluntaries being played on the keyboard – 'Jesus, Name Above All Names', 'Gracious God to Thee We Raise This Our Sacrifice of Praise', 'Come, Now is the Time to Worship' – and, from our 'social distances' saw those with whom we had worshipped many, many times before and, most joyfully, a number of friends from other chapels in the area and members of the local community who had chosen to come and share this time together.

We had decided in advance to aim for a service time of 30 minutes in length. It had felt strange being so prescriptive with all those taking part over the time available for music, for prayer, for Bible reading and for preaching – but, over each of the three Sundays so far, nothing has felt rushed. Be it address, reading or prayers, perhaps limiting the amount of time available makes those involved really consider the most important parts of their message which they want to convey and the words they use. We've certainly not been bored! Similarly, the absence of singing has meant that we've listened to recorded music whilst watching images and the words projected onto the screen. This has introduced another new dimension to our worship and we've taken the opportunity to try new worship songs and use different settings and versions to the ones we are used to.

It has been amazing and humbling in equal measure to see more people join us each week and that friends from other chapels have enhanced our worship time by leading us in prayer and Bible reading (as well as preaching, of course). On 23 August we made the decision to run the service twice – once at 10.15 and once at 11.00 – in order that we did not exceed the numbers we can safely accommodate but ensure we did not have to turn anyone away (especially as there are still a good number of the regular congregation at Waingroves who are still to return to worship when they feel the time is right for them). As further chapels reopen, we know we will return to a single Sunday service but, in the middle of lockdown, we would never have imagined in our wildest dreams that we would be faced with the problem of not being able to fit everybody in!

It is difficult to summarise how things have felt at Waingroves on these Sunday mornings – it has been exciting, exhilarating, frenetic and wonderful to see other Christians in person and worship together. There have been times of hard work, of anxiety and of some doubt that we were doing the right thing (especially at the start) but we have also experienced great joy and intense fellowship. It isn't allowed to hug or shake hands at the moment as we are used to doing but people have still stood at a safe distance from each other on the car park after the service and, on the first Sunday, someone exclaimed that, above all else, they had experienced the presence of God as we had worshipped together. And, surely, that's what it's all about – as we heard and confirmed during the first hymn at the first service 'Great is thy faithfulness, Lord, unto me.'

Mark Ratcliffe