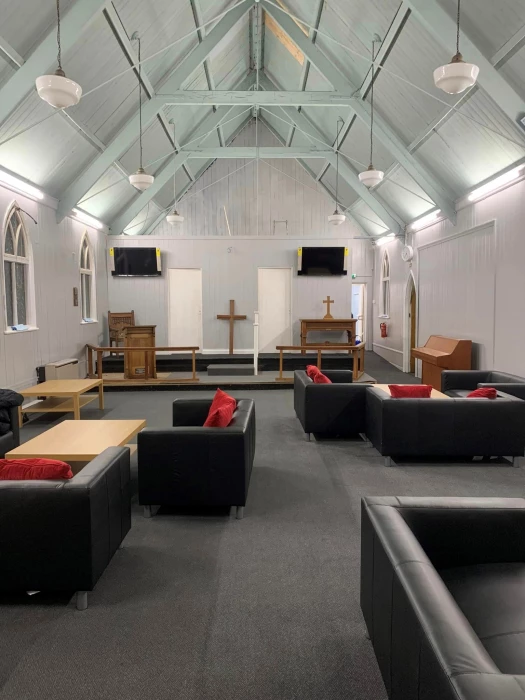 The Dwelling Place, the story so far ...
... from Deacon Michaela Doherty
After many months of renovations, The Dwelling Place was finally opened on 24th December 2022 by Councillor Paul Jones. We had a wonderful Christmas Eve service and a brunch provided by Mary's Kitchen.
I believe The Dwelling Place is in a great location to serve the people of that immediate community and I look forward to getting to know them better over the coming months. Our Warm Spaces has been hugely successful. Our numbers doubled in just a week thanks to our Facebook campaign and leaflet drop around local streets. People of all ages have come to enjoy a warm and welcoming space with free hot drinks and scrumptious soup and a roll. We are building community with every step we take and I can't wait to see how God will develop this.
In April a new toddler group, called Tiny Dwellers, will be starting – a place for pre-school children and their carers to stay and play. There will be a Christian story and songs every week. From previous experience, I know how much God can use these groups as a springboard to so much more, so I'm excited to see where God will lead this.
Mary's Kitchen will be providing a two course meal for £3.50 every Thursday for people over the age of 70. There are also plans to start a £1 cafe on Fridays.
We are currently investigating the possibility of starting a Memory Cafe for people with Alzheimer's and their carers. This is much needed in the Heanor area because there is nothing like it locally. This initiative could tie in with Messy Vintage, which involves a craft activity with a simple faith reflection.
We have already had interest from outside groups who would like to hire the space – it is important that these potential user groups complement the ethos of The Dwelling Place, as a place of support, care and inclusion. Those I'm currently in conversation with definitely fit these criteria. Age UK is looking to start a weekly exercise class, which could be on Thursday mornings before our lunches. SSAFA, an armed forces charity, is looking to hire the building for a monthly breakfast. And Derbyshire County Council is interested in setting up a weekly group for people struggling with their mental health who would like to learn how to draw and paint.
Suddenly, so much is happening in a short space of time! In all of this it is important to remain prayerful and discerning – this is all for God's glory, who deeply cherishes the people of Heanor.
Deacon Michaela xxx